Thu 16 Dec 2010
Posted by Miss Andria under addiction, BDSM, blackmail, cock control, cock sucking, cuckhold, cuckold, Fetish, financial domination, Financial slavery, Forced femme, Forced intoxication, Fucktards, gloryhole training, Goddess, Human ATM, humiliation, kilts, Mistress, Niteflirt, Phone Domination, Phone sex, pigs, Princess, scotland, Small cock humiliation, SYNDICATES, tease and denial, Tributes
No Comments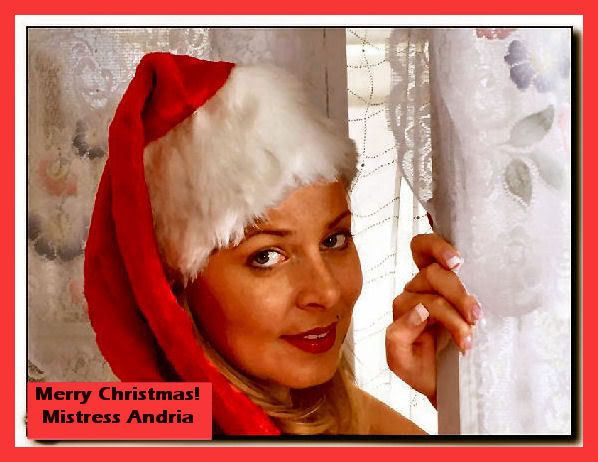 It has been another great year with all my fun subs! I have not updated this in a few months, bronchitis but for my regular boys, this web you all keep up with me via the phone so no need to worry about updating a blog! I am happy to announce that the recordings on NF are back! I see many of you have been buying my assignments, playing my PTV games and listening to my recordings! Some of you have asked about Ms. Marcy. I have not been in contact with Ms. Marcy for sometime, but I know she would be thrilled that you have inquired about her!! She is the worlds biggest cocksucking crossdresser!!
I want to thank those of you who have sent me gifts for Christmas. I have sent you a email and freebies….check your inbox 🙂 I have gotten some beautiful things off my Amazon wishlist and a lot of nice Gift Cards! A true Sub always remembers his Mistress for the holidays! You are the ones I give special attention/free time ect. Thank you boys!! Hope to talk with you all soon!
********GERMAN PIG PAUL AND PINDICK ADAM*************** I STILL HAVE NOT HEARD FROM YOU!!!!!!!!! YOU BOTH KNOW IT IS TIME TO GO SHOPPING BECAUSE YOU ARE BOTH USELESS FUCKS!!!********** DO IT NOW!!!
My wishlist link! SHOP IT BITCHES!!!
http://amzn.com/w/3XUG6C0XBJET
---
No Responses to " Merry Christmas and a Happy New Year! "
Comments: